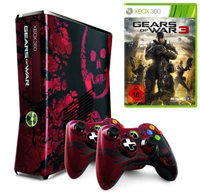 Für die meisten Menschen die sich eine neue Konsole zu legen wollen ist es oftmals von entscheidender Bedeutung wie es sich mit dem Gesamtpaket verhält. Aus diesem Grund werfen wir heute einen Blick auf die Xbox 360 Bundle 2011. Welche Xbox 360 Bundle sind 2011 erschienen und welche Vor- und Nachteile bieten die einzelnen Bundle's dem Käufer! Wer nicht ganz sicher ist, was sich hinter der Bezeichnung Bundle versteckt: Konsolen, wie die PS3, Xbox 360 oder die Nintendo Wii (aber auch schon die Konsolengenerationen davor), werden zumeist als Bundle verkauft, also als eine Art Paket, dass neben der Konsole meist noch ein Spiel, oder einen Controller beinhaltet. Oftmals variieren die Bundle's (je nach Inhalt) noch stark im Preis. So ist z.B. eine Xbox 360 mit einer kleinen Festplatte wesentlich günstiger als eine Xbox 360 mit viel Speicherplatz.
Die besten Xbox 360 Bundle's 2011.
Ein gutes Beispiel für ein ziemlich prall gefülltes Xbox 360 Bundle 2011 ist das erst kürzlich erschienene Gears of War 3 Bundle, dass – obwohl mit knapp 400 Euro nicht gerade günstig -, in den meisten Geschäften mittlerweile schon wieder vergriffen ist. Das Gears of War 3 Bundle beinhaltet nicht nur eine Slim Version der Xbox 360 (eine neuere und kleinere Variante der ersten Xbox 360), die zusammen mit zwei Xbox 360 Controllern in einem edlen dunkelrotem Gears Of War Design bemalt wurden ist, sondern auch eine 320 GB Festplatte und ein Headset. Mit ca. 350 Euro etwas günstiger fällt das Xbox 360 Slim Kinect Bundle Kung Fu Panda aus. Neben den Spielen Kung Fu Panda 2 (als Downloadcode) und Kinect Adventures beinhaltet das Xbox 360 Bundle 2011 einen Kinect Sensor, der für die Nutzung von Microsofts Bewegungssteuerung nötig ist. Außerdem mit dabei ist natürlich ein Xbox 360 Pad, ein Headset sowie eine 250 GB Festplatte.
Verschiedene Xbox 360 Bundle's auf einen Blick.
Deutlich angenehmer für das Portemonnaie kommt das Xbox 360 Bundle 2011 für ca. 250 Euro daher, dem neben einem Kinect Sensor und einer 4 GB Festplatte die Minispiele Sammlung Carnival: In Aktion beiliegt, dass mit Kinect gesteuert werden kann. Wem das Spiel Carnival: In Aktion nicht zu sagt, der kann sich statt dessen auch für ein Bundle mit dem Spiel Kinect Adventures, Sports Season 2 oder Sesamstraße entscheiden, die sich bis auf die enthaltenen Spiele nicht unterscheiden. Preislich ähnlich, für Core Gamer aber mit dem deutlich besseren Inhalt sowie größere Festplatte ist das Xbox 360 Bundle 2011 mit den Spielen Forza 3 und Crysis 2 (letzteres nur als Download). Außerdem beinhaltet das Paket noch eine kostenlose Xbox Live Arcade Mitgliedschaft für 3 Monate. Wer Autorennspiele zwar mag, Forza 3 aber schon besitzt, für den dürfte das Forza 4 Bundle etwas sein, dass (von Crysis 2 einmal abgesehen) einen ähnlichen Inhalt aufweist. Ihr sehr also, es gibt zahlreiche Xbox 360 Bundle 2011 und es sollte auch für jeden Geschmack und Geldbeutel etwas dabei sein.