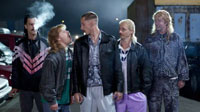 Bis auf sogenannte Sommer-Blockbuster im Kino sind gute Filme zu dieser Jahreszeit eher rar gesät, und selbiges gilt auch für Blu ray Releases. Doch ganz so schlimm, wie sich das anhört, ist es nun auch wieder nicht. Bereits im Juni erschien beispielsweise mit Yellow Submarine endlich der legendäre Beatles-Film auf Blu ray, die vierte Staffel von Breaking Bad wurde endlich veröffentlich und Filmserien, wie Ice Age, Resident Evil und Spiderman sind noch einmal neu als Blu ray aufgelegt wurden oder in einer Box erschienen. Und auch die kommenden Monate bringen einige interessante Filme mit sich.
Top Blu ray Releases im Juli 2012:
Gut los ging es mit den Blu ray Releases bereits am 5. Juli. Da erschien nämlich mit dem Film Safehouse ein ziemlich spannend inszenierter Thriller mit den beiden Stars Denzel Washington und Ryan Reynolds in den Hauptrollen. Für Fans des eher derben Humors dürfte hingegen eher die Fortsetzung von New Kids Turbo interessant werden. In New Kids Nitro müssen die Jungs es dieses Mal nämlich mit Zombies aufnehmen.
Weiter geht es im Juli mit den beiden Action-Streifen Catch 44 (mit Bruce Willis) und Ghost Rider: Spirit of Vengeance, der Fortsetzung von Ghost Rider (2007). Wieder mit Nicolas Cage in der Rolle des Johnny Blaze und für Comic-Fans ein Muss! Ein Muss für SciFi-Fans hingegen ist die Veröffentlichung von John Carter – Zwischen 2 Welten.
Top Blu ray Releases im Ausgust 2012:
Actionreich los geht es auch im August mit einer 2-Movie-Collection der Filme Kampf der Titanen und Zorn der Titanen, in denen Hollywood-Star Sam Worthington es in bester HD-Qualität mit den Göttern aufnimmt. Der zweite Teil erscheint übrigens auch zum selben Zeitpunkt als einzelne Blu ray in 2D und auch als 3D-Version.
Für viele hat das lange Warten wohl am 16. August ein Ende. Dann erscheint mit Hugo Cabret nämlich endlich der fantastische und mehrfach mit dem Oscar ausgezeichnete Film von Regisseur Martin Scorsese auf Blu ray. Ein Meisterwerk, das sich niemand entgehen lassen sollte. Ebenfalls bei den vergangenen Oscars mit dabei waren auch die beiden Filme Extrem Laut und Unglaublich Nah, sowie The Artist. Letzterer gewann gar die Trophäe für den besten Film. Und zwar zu Recht! Weitere Top Blu ray Releases im Sommer 2012 sind natürlich Battleship und vor allem die Comic-Verfilmung The Avengers mit Stars, wie Robert Downey Jr., Chris Evans, Mark Ruffalo und vielen mehr.